P!NTO is now available as a multi-purpose chair. We were inspired by our customers, who wanted to make use of their P!NTO at the table, at work or in cafes. "Would it not be great if we had P!NTO modeled chairs too?" - so we did it! Now you can enjoy our ETHREEM three-dimensional molding technique everywhere.
Technical characteristics:
Materials / Polyurethane HR Foam
Structure / Metal + paint
Size & Weight / width 55cm x height 84cm x depth 55cm, 11-12kg
Color : Beige, Gray Dark Gray
Seating hight : 45cm

STORE

CATALOG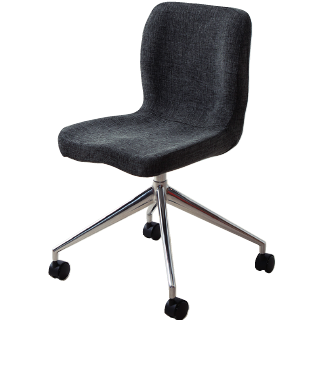 You feel as though you are "wearing" them when you sit on our "P!NTO" products. This is because the supporters inside the cushions place your ribs, pelvis and thighs in the most comfortable position to sit (EHTREEM® original modeling system). We are always moving while sitting. So it's important for us to have something to suppress the bobbing of our bodies core and axis. That makes us more efficient in what we do while sitting. "P!NTO" products are nothing like braces for your teeth. They are a platform for a good posture. A good posture means to be able to have efficient movements. You can reach out in each-direction. "P!NTO" is where you can automatically go back to your starting position and have a perfectly realigned posture for your next movement. After using P!NTO for a while, your posture will be improved for any activity.