It is very important for kids to learn good posture habits since there bones and muscular structure and internal organs rapidly develop within 12 years of age.
Bad posture habits during reading, writing or drawing can cause back pain, sight problems, stress and impaired concentration. Realigning the body can be difficult and Pinto kids can help with that.
150€
Technical features
Cushion : high resilience (HR) polyurethane foam
Cover : MESH - 100% polyester
Color : blue-yellow, pink-blue, red-navy, linen beige/blue, linen beige/yellow
Size : width 380mm x height 380mm x depth 380mm
Weight : 800g
Resistance: tested according to the JIS standard (Japanese Industrial Standard), thickness loss of only 4% after 80000 compressions
Maintenance: Cover can be removed and machine washed inside a protection net. The inner cushion does not require special maintenance.
Use: thanks to the anti-slip finish of the bottom side the cushion stays firm even when you move.
It can be used on a chair with backrest. It is not suitable for chairs with a very curved backrest or with a seat surface smaller than the cushion.
Pinto kids was created by the occupational therapist HISAKO NOMURA, who manufactures more than 300 custom-made seats per year and in 2013 developed the tridimensional modelling system ETHREEM®.

STORE

CATALOG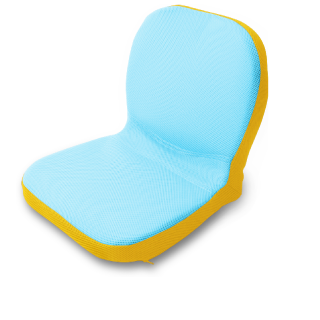 Pinto kids supports the pelvis, which tends to lean back and balances the muscular tension of the back, favouring functional movement of muscles and joints. A good postural habit, comfortable and balanced
Pinto is a very popular product: more than 260000 seats where sold in Japan.